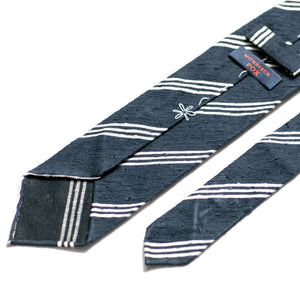 Striped Shantung - Navy and White Stripes
Sale price Price $130.00 Regular price $150.00
One of the most dynamic silks, raw shantung has a beautifully slubbed appearance. With a navy base and a triple white stripe in the foreground, it's the perfect all season tie, easily worn any time of year. 
Lightly lined, in 3 fold construction, with un-tipped blades. 
Hand cut and rolled in Italy. 155cm length x 8.5cm in width.