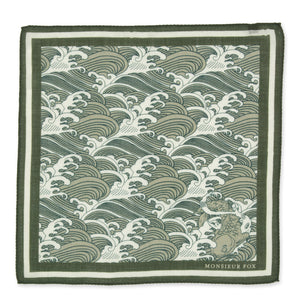 Koi Fish - Green
Sale price Price $80.00 Regular price $85.00
Inspired by the famous print of the Japanese painter, Hokusai, The Great Wave is one of the most iconic motifs from 19th century Japan. Our pocket square is a series of these waves, with a subtle Koi fish worked into the corner. Representing good fortune and prosperity, the Koi fish is originally Chinese, however, the Japanese are credited with it's careful cultivation, crafting it into a meaningful symbol.
The Great Wave is often linked with dramatic events, and as the Koi fish represents good fortune, we thought that the combination provided an elegant contrast; danger and luck, all in a simple pocket square. 
By versatile and best selling pocket square across all seasons. 
70% Wool, 30% Silk
Made in Italy
42 cm x 42cm