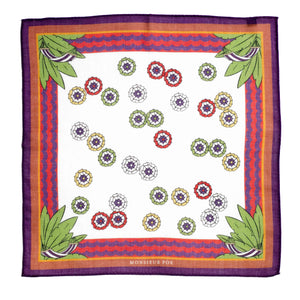 Beach Umbrellas - Bronze and Violet
Sale price Price $80.00 Regular price $85.00
Summertime is beach time. Pick out that perfect spot, with just the right amount of space between you and the girls playing volleyball. A drink in your hand, preferably something light, refreshing with a touch of citrus, and a pitcher in the cooler to keep you topped up throughout the day. Crisp, clear aquamarine waters softly splashing your feet as you lean back, and think "Ah yes, this is the life..."
Well, we hope you at least think of that moment, if you're elsewhere when you're wearing this!
Printed and handrolled in Italy. 42 x 42cm. 70% Silk and 30% Wool.